Gent's Lounge by MAVERICKSHOES
2nd floor GATEWAY EKAMAI (URBANO ZONE)
near ALL ABOUT PET petshop
Store location on GOOGLE MAPS : "Click here"
Open everyday from 10:30 – 20:30
Call us : 0646594269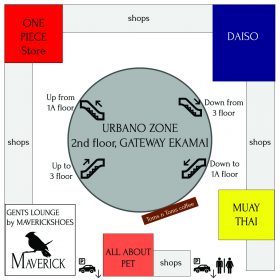 Frequently asked question
What is our claim and return policy.
We have 14 days satisfaction warranty, customer can decide to exchange or return product under new condition.
For Bangkok metropolitan area, we also have door to door pick up service for exchange/return.
find out more here.
When will we deliver products
If customer complete the order before our cut off time of 12:00pm, your item shall be shipped within one business day, and will be delivered next day.
Or leave your question here